We offer a full service production facility. Studio A is equipped with a Digi Design Pro Tools workstation for unlimited virtual track recording and production work. Original voice over recording of Burnett Players or SAG/AFTRA talent for Finished On Air Production, Demos, Auditions, Scratch Tracks, Foley, Video Sync Lay back or preliminary meeting presentations is available. The Studio is big enough to accommodate large groups.. several simultaneous dialogue characters or intimate single announcer voice over.
All Production sessions are kept on file for 5 years. So remember that when your looking for a music idea and you think a Demo you used in 97 for Miller would work in a idea for Kraft.... call us with a few details... like when you did it and a title or client it was used for and we'll make you a CD or MP3.

Our extensive sound effect Libraries contain more than 300 hours of custom sound effects. The libraries include: Sound Ideas SFX Library, Warner Bros. SFX Library. Universal Studios SFX Library. Lucas film SFX Library. The Hollywood Edge (Cartoon Trax) SFX Library. In addition live recording of original sfx's for Foley or ADR is available with a booked session.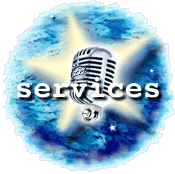 Only audio formats are supported. Audio Cassettes, Dat, and CD. We also dub audio from LP Records, 3/4" and 1/2" Video . All video dubbing is handled by the Video Transfer Department. For large quantity CD dubbing (100 copies or more) check will Al Rudd Ext. 3083 for possible discount billing

The Radio Production library was started in 1985 and is added to each month with most of the radio commercials produced from the previous month. In cases of commercials with multiple versions, we often receive only one of the versions for the library.

Need a MP3, AIF, WAV, Sound Designer II. QuickTime or some other format to e-mail. Bring us your CD's, Dat's or Cassettes and will convert them to your favorite file format and e-mail them for you. E-mail your QuickTime Audio or MP3's and will make a audio CD of them for your presentation.
Click above to go to a complete listing of all our current Billing Rates.
ISDN is available for the transfer of quality digital audio over telephone lines
to any other studio or
facility with ISDN capability for remote recording sessions and the sending and receiving of session elements in a timely manner. Book in advance for connection compatibility.

Our current licensable music library consists of Pro Music, Non Stop , and Who did that Music?
We also have over 2,000 commercially recorded CD's, DAT's, 45 /33 LP Records, and audio cassettes. These materials may be checked out or dubbed for research and presentation purposes only. They may not be used for any ON AIR or Broadcast purpose unless rights are negotiated. If you have questions contact your Producer or Broadcast Business.